The use of small autonomous flying vehicles — model airplanes to hobbyists — is revolutionizing the field of conservation, enabling researchers to track wildlife, monitor for poachers, and survey inaccessible forests and reefs.
Lian Pin Koh, the founder of Conservation Drones, a group which is accelerating innovation in the space, highlighted the many exciting applications of UAVs during a talk given this past June at TED Global in Edinburgh, Scotland this past June. He cited examples of drone use for conservation in Sumatra, Belize, and Nepal.
Koh said the combination of open-source software and low-cost hardware including cameras, GPS and sensors has made it possible to build drones with advanced monitoring capabilities at only the fraction of the cost of hiring a plane to do a single flyover of an study area. The result is a powerful new tool for conservation and environmental protection.
Full disclosure: Mongabay.org, Mongabay's non-profit organization, is the fiscal sponsor for ConservationDrones.org
More on Conservation Drones
Remote-controlled model planes offer bird's-eye approach to conservation

(07/10/2012) Inexpensive aerial drones can help conservationists map forests, monitor land use change like deforestation, and track wildlife in remote and inaccessible areas, reports a new study published in the journal Tropical Conservation Science.
Model airplane used to monitor rainforests – conservation drones take flight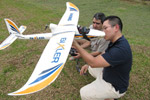 (02/23/2012) Conservationists have converted a remote-controlled plane into a potent tool for conservation. Using seed funding from the National Geographic Society, The Orangutan Conservancy, and the Denver Zoo, Lian Pin Koh, an ecologist at the ETH Zürich, and Serge Wich, a biologist at the University of Zürich and PanEco, have developed a conservation drone equipped with cameras, sensors and GPS. So far they have used the remote-controlled aircraft to map deforestation, count orangutans and other endangered species, and get a bird's eye view of hard-to-access forest areas in North Sumatra, Indonesia.